25 Barbie Party Ideas and Freebies
25 Barbie Party Ideas and Freebies
My youngest daughter's 7th birthday is a little over a month away and she's all about The Glitz & Glam so it was no surprise when I asked her what party theme she wanted this year she said Barbie with no hesitation. So I definitely need to start planning now because waiting until the last minute is not an option I'll spare myself this headache. We're not planning a big party but I still want her Big Day to be glamorous and fabulous. Today I wanted to share with you all some of my favorite Barbie party ideas that I have come across while searching for inspiration online. Also, you'll find lots of Barbie party freebies in this post.
Barbie Party  Invitations
thetomkatstudio.com will help you throw the ultimate Barbie Party on budget with their Free printable party designs which Include: customizable invitation designs, cupcake toppers, favor tags and more!
#1
Over at Punchbowl.com, you can send out Free email invites to your party guest. They have this real cute FREE customize Invitation Ponytail Silhouette that is perfect for a Barbie theme Birthday party.
#2
 Vintage Barbie Party
Vintage Barbie parties have become very popular, and over at Printabelle
you can get a large collection of Vintage Barbie Party Printables for FREE. The set includes
Invitations, Thank You Cards, Gift Bag Tags, Water Bottle Labels, Gifts Bag Tags and so much more.
#3
Party Decorations
Barbie Photo Booth #4
See how to Create a Barbie Photo Booth at SmartypanysMama
Add some sparkle with these Easy DIY Glitter Party Cups by nestofposies-blog.com
#5
Barbie Themed Ice Cream Party via Kara's Party Ideas
#6
#7
You can create this simple Makeup/touch up Station just by draping Pink and Black cloth over a table and chair.
Party Activities & Games
Decorate your own cupcakes
#9
#10
#11
#12
#13
Party Food and Snacks
#14
#15
Pink Cookies
#16
Barbie Pretty-In-Pink Drink Idea
#17
Genie-fy a cake pop recipe
#18
Pink and White Marshmallow Pops
#19
#20
Birthday Cake
Barbie Dress Cake
#21
Watch how to make your own Barbie Dress Cake here

Party Favors
#22
Barbie Purse Perfect Make-Up Case
#25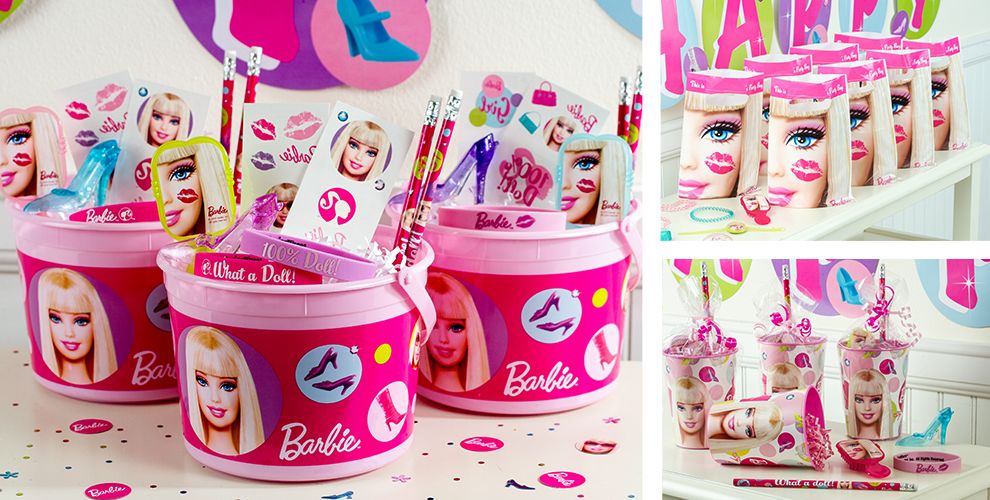 #24
More Party Freebies
Barbie party printables Cupcake Toppers
#25
Gifts